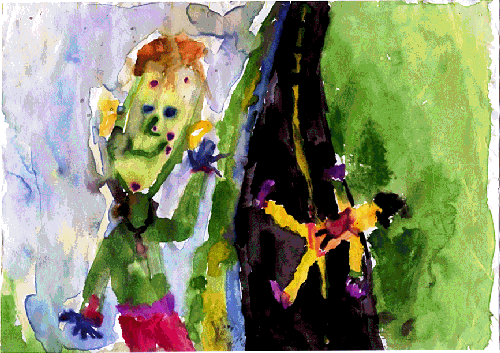 It was 1994, Kurt Cobain was dead and there was no spokesperson for a lost and confused generation. Unfortunately, Jeremy Mathews, a Junior High student starting a band with the initials NSPS, had neither the talent nor timing to be Cobain's predecessor.
Since then, Jeremy has written, performed and produced avant-pop recordings influenced by artists from The Beach Boys to Robyn Hitchcock to Bob Dylan to XTC to Nick Drake to They Might Be Giants. He plays guitar, keyboards, cello, bass, and percussion, and sings like no one wants to. But he started as a bummed teenager with nothing to do but sit in his room and write songs.
Mathews played in a trio for a while before going solo to work on a new sound that he couldn't get anyone else interested in. He began trying to write complex songs, although sometimes he was exercising basic theory and didn't realize it because he wasn't quite trained until years later. The best song of this era is probably "If I Only Had a Time Machine."
He soon began experimenting with MIDI sequencing as an alternative to a backup band. During his freshman year of High School, Mathews recorded a lo-fi 18-song demo tape with a Tascam PortaStudio. The tape was allegedly well received by the majority of the three people who heard it.
After spending two years developing the cassette Those Wacky Crazy Canadians, work began on the first NSPS CD release, Returning to the Fetal Position.
Currently, Jeremy is working with new equipment on an album entitled Timeless Towns and Haunted Places featuring more horns, strings and guests than he's worked with before. He also directed and edited a video for the song "The Art of Packing," featuring actor James Ruff.
In addition to work with NSPS, Mathews wrote and performed with Matthew Wallace and Aaron Leitko in The Mania Lab Experiments and produced the band's first cassette, Back to Banana Tree. A follow-up album — with "Furious" Joe Irvin, the drummer on "Civil War," added to the lineup — is currently in the very slow works.
He also produced the Extra Credit (formerly known as "Field Trip") songs including "Don't Run on the Side of the Pool" and "Naked Ladies." He later played guitar and keyboards in a live incarnation of the band.
Last but not least, he has scored music for his films "and oranges" and "Super Clean," as well as Jessica Mathews' animated-collage short "Lost."